I grew up in a council estate in a rural area on Exmoor, in the South West of England, so female role models were few and far between.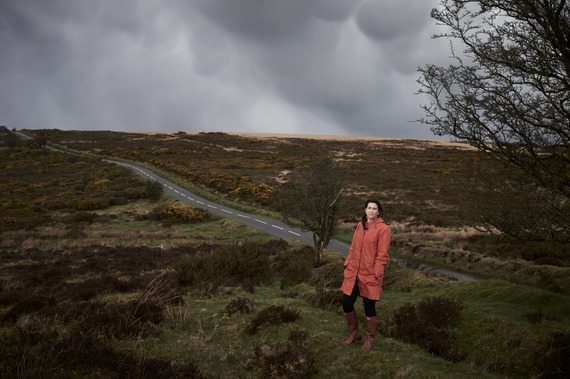 Donna is pictured near her home in Exmoor, surrounded by the clean air that inspires her work. She was photographed by Amelia Troubridge as part of Innovate UK's #infocus women in innovation campaign, an initiative to create diverse role models for women in STEM.
I was lucky; my family have always been inventive, making something from nothing using engineering knowledge as my dad was an engineer. However, engineering wasn't promoted to me as a career choice as a female growing up. I managed to go the long way around educationally and ended up as a strategist and geospatial specialist, something that didn't really exist as a career choice back then. As a result, in my position as a school Governor, I've been able promote science and bring in leading female scientists in areas such robotics and astrophysics to our local schools to demonstrate gender is no barrier to working in science and engineering. Our small Exmoor school is now a Science Hub for 10 local schools with links to Exeter University.
It's very humbling being chosen to represent female innovators and seeing my picture in the exhibition. I know of, and have worked with, some incredible women over the years, but we often don't get singled out so it's great to have some focus on female innovators in the hope it will encourage others to step up.
Being photographed by a professional is a totally new experience. I'm not used to having so much attention lavished on me, but Amelia and Matt made it as pleasant an experience as you can have when staring at a lens. The weather was truly awful so they did well to get any images at all! I chose Exmoor for the photo shoot not just because of its wild beauty but because I wanted to show that you can drive change from anywhere.
The other women in the exhibition are incredible, some of their stories are truly moving and many are multitasking mums too. We all share a passion to achieve and make a difference to our world and that's what I hope everyone will take away from this exhibition.
I have entered our company, EarthSense, in many Innovate UK competitions before, normally as part of a consortium, but this one was substantially different. I felt comfortable entering the infocus competition because it was about me as much as about the company. The format was very user friendly and enabled me to really express what I felt was important in driving forward our project.
My ambition for the future is to secure funding for EarthSense and to make the company a global leader in environmental monitoring, modelling and data. It's also to demonstrate to my children and their generation that gender or location doesn't stop us from trying to address global issues, its only limited by our willingness to try.
EarthSense now provides technology for the measurement and modelling of air quality across the UK, to inform real-time decisions on how to ensure everyone can breathe clean air. The impact of the Innovate UK business package has been substantial, I have been to several workshops with incredible supportive advice on how to grow the business and have been allocated two senior business mentors who provide advice and support in developing our Growth plan for the next 5 years. It has given me the motivation and support I needed.
I would encourage everyone to look out for future infocus opportunities and either apply themselves or highlight the opportunity to others who could benefit, they are not like normal grants. The Innovate UK Staff and their support structure have been phenomenal; they have given us confidence and all the tools to help us make our plans a success. It's been invaluable.
To see the rest of the #infocus women in innovation photography series, shot by Amelia Troubridge in partnership with Innovate UK and Getty Images, visit: http://www.gettyimages.co.uk/collaboration/boards/DPwzhXTL606QygeKCaWd0g
If you're an entrepreneur or innovator, visit the Innovate UK website to find out more about upcoming funding opportunities. www.gov.uk/government/organisations/innovate-uk
-- This feed and its contents are the property of The Huffington Post UK, and use is subject to our terms. It may be used for personal consumption, but may not be distributed on a website.