My portrait was recently taken by friend and inspiring female photographer Amelia Troubridge, as part of a photographic series on women in innovation, commissioned by Innovate UK in partnership with Getty Images. This puts me in an unusual position, to consider myself as a role model as well as to reflect on the influencers who have helped to steer me to the position in which I find myself today.
Innovate approached me to help them resolve one of the key barriers to engaging women in innovative and entrepreneurial activities; a lack of visible role models. They hope that these images will help to highlight the many identities of female entrepreneurs, and to create a lasting legacy that will inspire other women to recognise their most entrepreneurial and innovative ideas, and to pursue their ambitions.
When I think about the positive female influences, voices and role-models who have inspired my life, career and drive, many come to mind. Dame Steve Shirley, for example, is an inspiration because of the adversity she faced and how she dealt with adversity by turning it into such a positive force. Often the people who inspire us most as role models remind us of a piece of ourselves that we'd like to nurture and aspire to. My own sister and mother were inspirational role models in teaching me resilience and courage. They encouraged me to be resourceful in my life and in the way that I approach problems with independent thinking, creativity and a hard work ethic. Although I lost my two siblings to whom I was very close in my 20's, the early adventures we shared in childhood and our love of the natural environment and cycling remains with me. I enjoy the inspiration and comradery of working purposefully with people. I also love the adventures of an exciting career trajectory, living and growing alongside my partner Mark and constantly learning and expanding our horizons whilst moving forward towards delivering a more sustainable, human-centred and green service economy.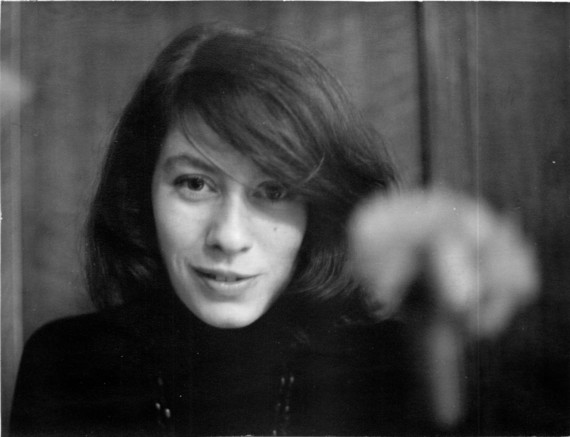 My Mother. Born in Rockferry, Liverpool, became a special needs teacher and campaigner for social justice issues such as clean streets and healthy play spaces in London.
My early activist days. This image appeared in the Guardian. I was delivering a petition to Margaret Thatcher to save school milk and keep affordable school meals.
I think there are many facets to being an innovator. Seeing things differently and multi-dimensionally involves a creative mind-set that is always in a state of curiosity, both receptive and vulnerable. This has to be coupled with a more strategic vision and awareness of the possibilities of what science and technology can bring. Tech innovation involves risk and a confident optimism that what you are creating will bring about positive social change. You have to be able to exist outside of your comfort zone to manage unexpected scenarios and the momentum of a snowball effect. You have to trust your intuition, assess the risk and have confidence in your values.
For my area of innovation this involves creating a transformative and revolutionary approach to clean energy, clean transport, healthy active citizenship and service design that promotes well-being, ethical business and helps to protect the planet.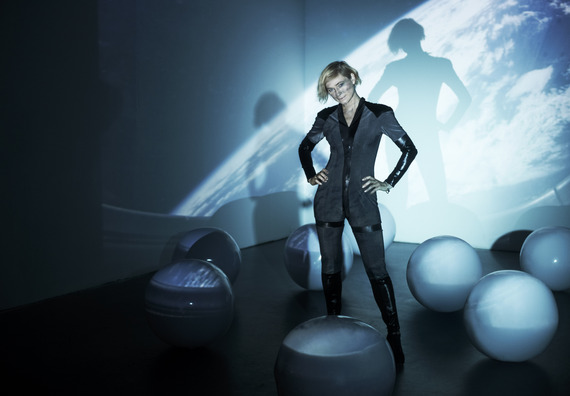 My photograph in the Getty exhibit was taken when I first met Amelia in 2013. Amelia was producing a photography book called "Joan of Arc had Style" featuring a series of portraits of women. One of these images I supplied for the Innovate /Getty show with a recommendation of Amelia's work. That's the way positive networks operate - we all move forward together.
Amelia and I had met for a coffee and hatched a plan. Our intention was to create an art portrait that reflected my career in the space industry. I brought along a projector with orbital footage shot by astronauts and we borrowed the suit from the talented designer Pam Hogg. Photo Amelia Troubridge
As women we often have many strings to our bow because we are juggling multiple roles behind the scenes. For example, I don't always look "spacey and fierce". In the process of creating the photograph I felt I could share the creative license and have fun in our female photographic interpretation of a career journey through the male dominated space industry. It certainly captures the "determined" side of me.
There are many incredibly inspirational entrepreneurs also included within the exhibition;
one that comes to mind is Shakar Jafari. She has developed an innovation that will optimise cancer care, and her daughter and I recently had an energised conversation about engineering and space; she's certainly inherited her mum's curiosity, sparkle and energy!
I hope that other women can take away similar inspiration, hope and determination for real systemic change. This can only happen with greater diversity and equal representation of women within all sectors including science and technology. Support and collaboration between women and between conscious men and women can only make society stronger as a whole.
My ambitions are to continue building my project, the River Cycleway Consortium Ltd and to set up a global ethical clean active transport brand that embraces values such as diversity, active citizenship inclusion, integrity, empowerment, knowledge creation and the sharing of technology through creative disruption in the energy and transport industries and services.
Winning the infocus business package has made a tremendously positive impact, both in terms of the visibility of my project and in terms of the development support package and the guidance of a senior mentor.
I would encourage everyone to apply for future infocus awards.
"You don't know how good you are until you actually get out on a bike and get riding".
Laura Trott, Olympian Gold medallist cyclist.
To see the rest of the #infocus women in innovation photography series, shot by Amelia Troubridge in partnership with Innovate UK and Getty Images, visit: http://www.gettyimages.co.uk/collaboration/boards/DPwzhXTL606QygeKCaWd0g
If you're an entrepreneur or innovator, visit the Innovate UK website to find out more about upcoming funding opportunities. www.gov.uk/government/organisations/innovate-uk
-- This feed and its contents are the property of The Huffington Post UK, and use is subject to our terms. It may be used for personal consumption, but may not be distributed on a website.