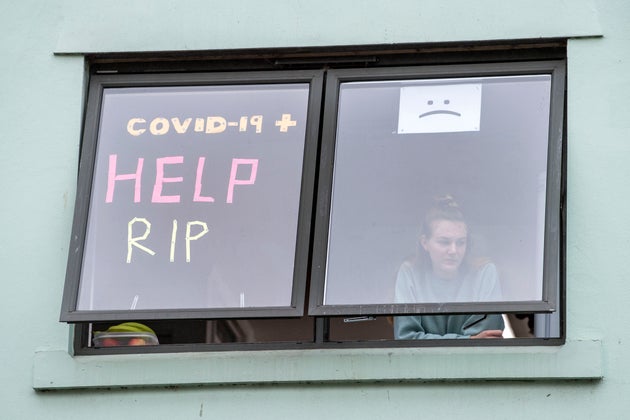 Students are being evicted from university residences as a result of holding rent strikes during the Covid-19 pandemic, it is claimed.
Organisers of the ongoing protest at Queen Mary University of London (QMUL) say 20 students have been evicted from halls since September, leaving many homeless because of the university's "draconian measures".
Activists contend those kicked out are among 350 QMUL students refusing to pay rent, and minor infringements are being used as an excuse to evict them.
The university says no-one has been served a "notice to quit" as a result of their rent protest, and that asking anyone to leave would only be prompted by "serious breaches of their contracts". It added "repeatedly breaching coronavirus regulations" would leave it with "no option but to request that they leave".
Protesters also say the university's management has not met with any strike organisers, despite requests.
A wave of university rent strikes have taken place across the UK during the pandemic amid frustration over hall lockdowns, paying for empty rooms and limited face-to-face teaching.
QMUL Rent Strike, which is mobilising students, says evictees have had "do not re-house" notices placed on their files, and are being charged administration costs.
It also accuses QMUL of a "double standard" as students are being evicted for breaching fire safety rules despite fire risk assessments exposing multiple faults with the buildings they live in have. QMUL Rent Strike is calling on the university to rescind the "notices to quit" and halt further evictions.
.@QMUL must stop evicting students.

Universities' duty of care towards vulnerable young people must be upheld in the middle of a pandemic. Disturbing that those who have organised rent strikes are being targeted with evictions.#StopEvictingStudentsQMUL@qmulrentstrike

— Apsana Begum MP (@ApsanaBegumMP) April 7, 2021
A 19-year-old student who has been evicted said: "I believe I have been targetted by QMUL for being a vocal rent strike organiser. My meeting regarding my eviction ended abruptly, despite my evident distress.
"I have no family home to go to in the UK and I am forced urgently to find housing in the middle of a pandemic.
"QMUL is aware of these circumstances but made no concessions to reflect them, and my requests for a less extreme punishment and a review of the disciplinary procedure were denied.
"The lack of a formal process and ethical treatment by QMUL is questionable. It seems the university is compensating for its own poor fire safety standards by enacting draconian measures on students in its residences."
A Queen Mary University of London spokesperson said: "Our students have had an incredibly difficult year owing to the coronavirus pandemic and as a university we are committed to ensuring our students still receive the best possible student experience.
"We are pleased to be able to offer university accommodation to all first year students, on or near our campuses. We provide a lot of support to students living in our residences, and receive good feedback from them.
"Only very occasionally do we have such significant issues with a resident that we have to issue a 'notice to quit'. However, when students endanger their own lives, and the lives of others, for example by disabling fire safety equipment or repeatedly breaching coronavirus regulations, we have no option but to request that they leave.
"Students are only ever asked to leave as result of serious breaches of their contracts. No students have been issued 'notices to quit' as a result of their participation in the rent strike."