With reports emerging on the increasing number of Rohingya people fleeing Myanmar - including more than 20,000 unaccompanied children - their needs and the trauma they have experienced is beyond comprehension. Emotional support as well as basic rations must be scaled up for all survivors. Survivors like Taslima, for example, who ran barefoot and terrified from Myanmar after seeing her father shot dead in front of her. She is just 10-years-old.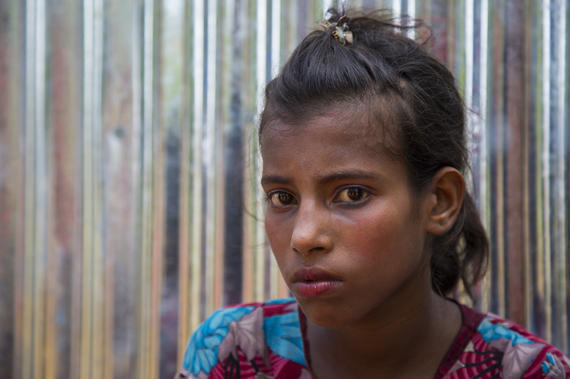 Taslima. Credit: Noor Alam/ActionAid
Now, Taslima is one of more than 600,000 mostly Rohingya refugees living in overcrowded camps in Cox's Bazar, a city in neighbouring Bangladesh. "My dad was killed in front of me," Taslima told me. "I saw the shooting. I had to run to save my life... I was afraid." It is difficult to imagine the terror she must have felt then. Or the huge sense of responsibility that rests on her tiny shoulders now as she looks after three younger sisters. Their mother died from ill health two months before the violence broke out. "Sometimes my sisters cry when they miss our mum," said Taslima. "When I see that it makes me want to cry too." I met Taslima while I was working in Balukhali camp for the international charity, ActionAid. She was one of several deeply traumatised women and girls I spoke to during my week there.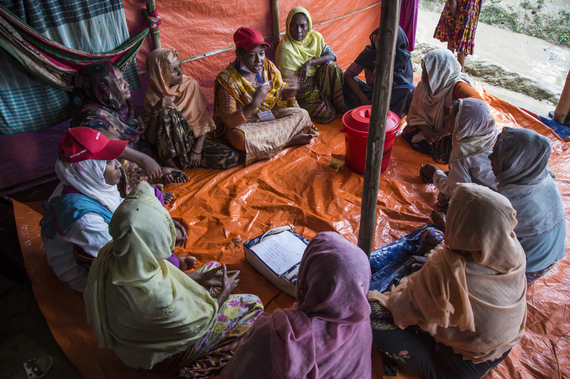 Women's Safe Space. Credit: Noor Alam/ActionAid
What I saw and heard convinced me of the power of emotional support, which can often be overlooked during humanitarian crises. While food packages are vital for sustaining the body, the presence of camp counsellors who are able to listen and offer advice and referrals to specialist psychiatric care is essential for healing the soul. One person who understands the art of this type of support is Fatema. The 35-year-old Bangladeshi counsellor has been working with ActionAid since the recent wave of refugees began arriving in her native city of Cox's Bazar.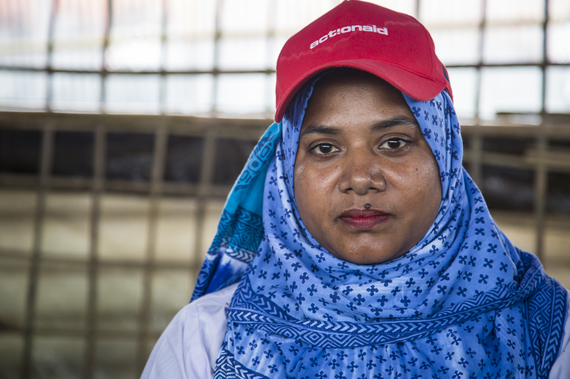 Camp counsellor Fatema. Credit: Noor Alam/ActionAid
"We listen to people's experiences and we try to support them to rebuild their lives," said Fatema, who speaks the same dialect as the Rohingya refugees. Her clients include a 15-year-old female rape survivor who was attacked in Myanmar and a woman who witnessed her husband and baby being killed. The woman was then raped. "We tell them that what happened is not your fault," said Fatema, who is also a trained paramedic and midwife. "You have to survive, you have to live. And when you have to live you have to live with dignity - we are all working beside you." Mass rape against the Rohingya minority living in Myanmar was documented in a
United Nations report
released earlier this year. But even though they are now living in the relative safety of the Bangladeshi refugee camp, women still fear sexual violence.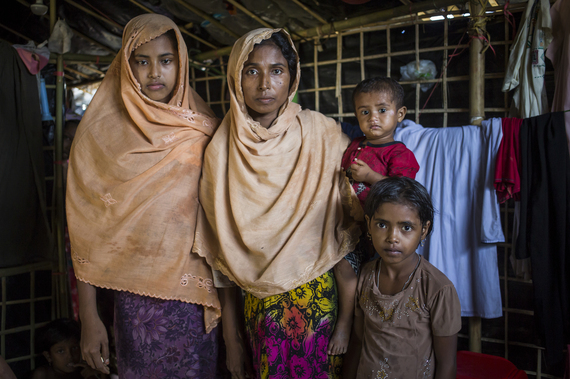 Amina and her children. Credit: Noor Alam/ActionAid
Under the searing 30 degree heat, Fatema made her rounds of the camp. She introduced me to Amina, 33, who fled Myanmar while she was eight months pregnant. "When the attacks started they would break into homes and torture and rape women," Amina told me. She still feels vulnerable because she lives in a makeshift bamboo-and-tarpaulin hut with her three daughters. "I feel scared at night," she said. "I have pretty daughters and I feel worried for them. This house is flimsy and I worry that men might disturb us at night." Earlier in my trip, I also met Sitara, 35, who expressed similar anxieties about her daughters being snatched at night.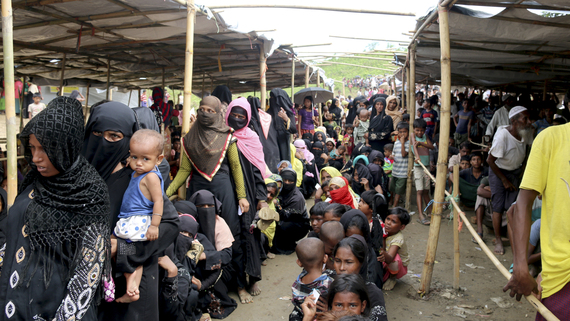 Women line up to recieve hygene kits. Credit: Noor Alam/ActionAid
The worries of these women are not entirely unfounded. When I spoke to a Bangladeshi army major who has been coordinating the effort to clear wooded hillsides to make space for new refugees who arrive almost daily, he said he had installed a 5pm curfew and sent night patrols into the camps to ensure the residents' safety. This curfew also means that Fatema has to leave the camp before sunset. She then embarks on a two-hour journey to get home to her husband and two children, which she confesses is a challenge. Overall, Fatema sees around 40 people a day who have various physical and mental health issues. Her work involves doing follow-up home visits. "Sometimes, after they have gone, I cry so much that the tears make the pages of my notebook soggy," she said. But despite this Fatema knows her work is vital. "When people talk to us, they feel better. They gain encouragement. It makes me feel really happy if I can lessen a woman's suffering - even if it is by a small amount."
Please donate now to ensure more women and girls receive this emotional support.