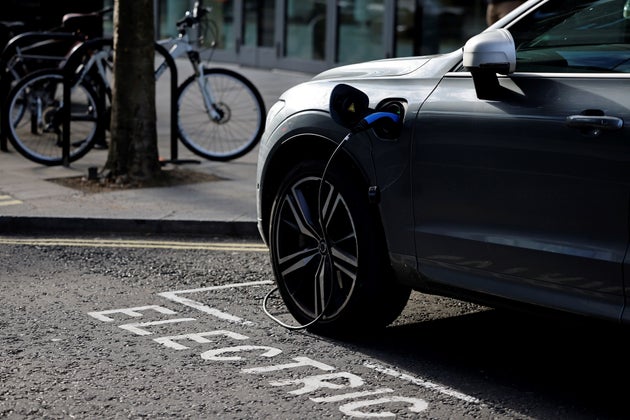 "Not TV or illegal drugs but the automobile has been the chief destroyer of…communities," the late heroine of human-scale cities, Jane Jacobs, once declared.
This sentiment – with which I wholeheartedly agree – is clearly shared. Following the prime minister's announcement that no new petrol and diesel cars and vans will be sold in the UK beyond 2030, I tweeted that Hackney would be ready to respond with one of the largest electric vehicle charging programmes in the UK.
But outraged Twitter followers were quick to remind me that "electric vehicles will not save us!".
The uncomfortable truth is, when it comes to the motor vehicle, we cannot live with them, but we cannot – entirely – live without them.
Environmentalists are right to be sceptical of the latest government announcement. Not only will no single measure address the major challenge of our ballooning land transport emissions, but this specific one will have limited impact on the UK's ability to hit the Intergovernmental Panel on Climate Change's "higher confidence" 2030 target of 45% fewer global warming emissions than 2010. 
It will also, manifestly, not address many other problems arising from our growing addiction to cars. But, environmentalists would be wrong to presume that the proposal is entirely without merit.
"Addiction" might seem like an overstatement, but the statistics speak for themselves. In less than 30 years, the number of motor vehicles on our roads has almost doubled to 40 million, and this phenomenon has been accelerating, with around half of that growth coming in the last decade alone.    
Land transport emissions represent around 21% of the UK's emissions and, unlike grid electricity which has experienced rapid decarbonisation in recent years, CO2 emissions from motor vehicles have been growing both in absolute terms and as a proportion of the UK's carbon budget.
If we look at the problem of the motor vehicle in London, where its public health and social impacts are particularly pronounced due to the population density and road layout of the capital, the challenge becomes clear.
Department for Transport data shows since 2009 the number of miles driven by motor vehicles of London's roads annually has increased by 3.6 billion – an 18.6% increase – to an all-time high of 22.6 billion miles in 2019.
This has had profound implications for air quality – with 99% of London exposed to particle pollution levels above the World Health Organisation's recommended limits – and for the social life of a city where the sight of children playing and neighbours chatting in the streets used to be commonplace.
There is more research to be undertaken on the cause of this alarming increase of driving in the capital, which is strongly-correlated with a decade of real-terms cuts in fuel duty, the dramatic growth in online shopping and the issuing of private hire cab licences, and of course the advent of satnavs and way-finding apps.
What we can definitively say is that London's neighbourhoods have borne the brunt of this increase. In fact, DfT data makes clear that not only have our residential streets absorbed the full net increase in driving over the decade, the increase on these roads has been 3.9 billion miles over this period.
Private cars, in particular, should be placed at the bottom of a transport hierarchy that prioritises the needs of pedestrians, cyclists, public transport users, and our communities first.
This demonstrates that, contrary to the claims of some Low Traffic Neighbourhood opponents, main roads have been displacing vast amounts of traffic into to our communities for more than ten years, not the other way around.
And this brings us to the problems electric vehicles cannot solve and, therefore the limitations of the government's announcement.
Electric vehicles only eliminate carbon dioxide emissions at the tailpipe. They do not eliminate emissions deriving from their manufacture and shipping; they do not eliminate lung-stunting particulate emissions, with 50% coming from tyre, brake, and road wear; they do not eliminate the significant social costs of rat-runs and poor road safety; and, crucially, they do nothing to address road congestion.
That's why the work that so many local authorities are undertaking across the country, but particularly in the capital, to eliminate through-traffic and local short-distance car journeys – 50% of which are under 3km – with the introduction of controversial, but long-overdue, Low Traffic Neighbourhoods, is essential.
Nor will this be enough, with road user pricing, now being mooted as a key tool in the fight against car dependency.
Moreover, it will not be enough for the government, transport authorities, and councils to ensure the price of driving reflects the full social, economic, and public health costs it imposes on society; we also need to deliver fully-integrated, good value, and accountable public transport systems and first class walking and cycling infrastructure, which are lacking in so many parts of the country.
To misquote Aneurin Bevan, there can be no immaculate conception of Amsterdam, Copenhagen, or Oslo. We will not humanise the city by chance.
We should also be careful not to discount the social benefits of the motor vehicle and, in so doing, be tempted to throw the baby out with the bath water. 
Even if we were to click our fingers and make every private car in London disappear tomorrow, which we cannot do, there would still be over 220,000 socially-useful vans in the capital, servicing the needs of its residents; there would still be the circa 10,000 local authority vehicles carrying out housing repairs and lifting the bins; and there would still be the many thousands of emergency service vehicles that help ensure the wheels of London continue to turn. They are, on the whole, not going anywhere, so they need to be zero emission at the tailpipe as soon as possible.
If we want to create human-scale communities in which wellbeing is placed before the long-established and often-expected "right" of drivers to dominate the roads, we need to completely reimagine how the transport system of our country works.
That involves placing private cars, in particular, at the bottom of a transport hierarchy that prioritises the needs of pedestrians, cyclists, public transport users, and our communities first.
All the remaining motor vehicles, and especially the ones that serve the broader needs of society, need to be zero emission at the tailpipe as soon as possible, and that's why we should, just for once, suspend our cynicism and welcome the government's announcement calling time on the combustion engine, as a small, but essential, piece of the land transport decarbonisation jigsaw. 
Jon Burke is councillor and cabinet member for energy, waste, transport, and public realm in the London Borough of Hackney