Amazon helped itself Friday to the trending photo of a bundled-up senator Bernie Sanders at Joe Biden's presidential inauguration to sell Amazon Pay – and people were horrified.
The backlash was so immediate that the company deleted the tweet by the end of the day.
The Amazon Pay Twitter account tried to profit from the buzz around the meme of the mittened Sanders sitting by himself in the chilly outdoors at the inauguration Wednesday. In the odd Amazon advert, "How to register for Amazon Pay" is written over the image of Sanders with the tweet: "It's that easy. Thanks #BernieSandersMittens."
Not only was the ad confusing, weird and presumptuous, but the choice to use Sanders was particularly fraught because the senator hates Amazon's labour policies.
In fact, he bashed Amazon in a tweet – on Inauguration Day – for trying to stonewall workers' efforts to unionise. So he hardly seems like a natural pitchman to boost Amazon's profits even higher.
Sanders has also criticised Amazon's Jeff Bezos for hazardous working conditions, whistleblower firings and all-around "corporate greed."
Amazon, incidentally, paid no federal taxes in the US 2018 or 2019.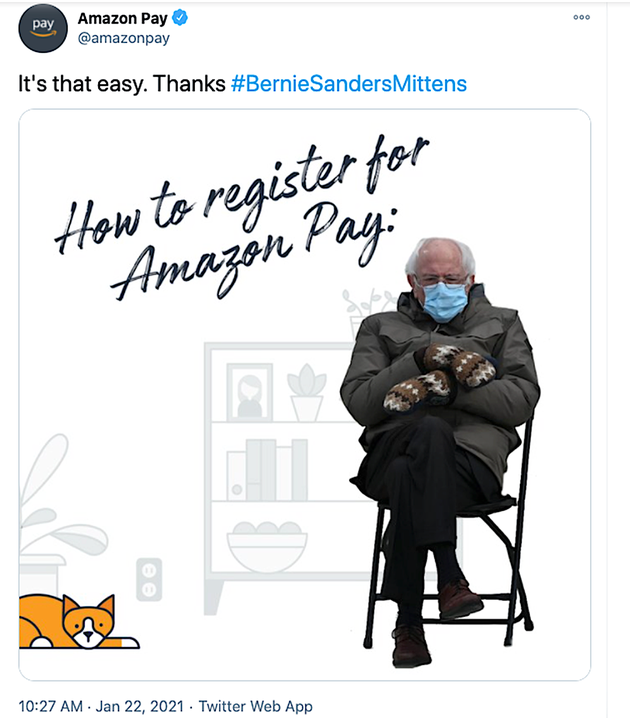 In late December Amazon itself lashed out at Sanders' criticism of its labour policies and working conditions, so it's not completely clueless about where the senator stands. Some observers speculated that Amazon was mocking Sanders with the ad.
As of Friday night, Sanders hadn't directly commented on Amazon's appropriation of his image to sell its stuff. So his supporters sounded off for him – and let the company have it.