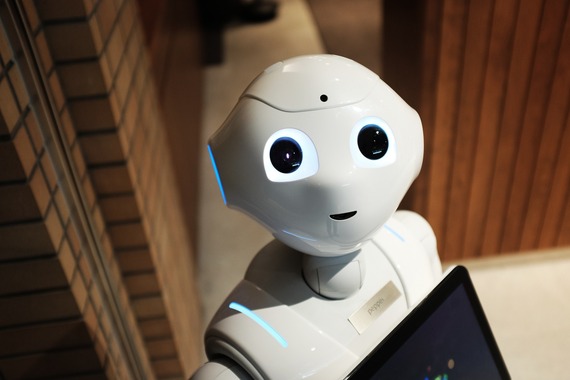 https://pixabay.com/en/robot-technology-modern-white-2587571/
The idea that we could hold meaningful conversations with computers creates a strong and diverse set of reactions. For some, being able to talk with a chat bot is an exciting idea, opening up a
whole range
of business and personal opportunities from customer service and tech support to fashion, healthcare and legal advice.
For others, particularly parts of the mainstream media, a computer that can chat is a portent of a Terminator-style AI armageddon of the human race. When Facebook discussed some of its recent chat bot developments, where the bots apparently developed their own language, it was described by one national newspaper as 'controversial' and 'unsupervised'. A side bar in The Mail's
coverage
of the story offered a frightening picture of 'The AI Warnings' that come with such developments.
Many more outlets incorrectly reported that the experiment was shut down because Facebook 'were afraid of the results', when in fact the bots were just not working as intended. This fearful perspective will no doubt return whenever the next big chat bot story emerges, but it takes the emphasis away from much more useful discussion on where chat bots might be of greatest benefit in the future - or even if they have a future at all.
The view of many is perhaps summed up by a recent piece in leading tech website The Register who argue that, "
the jury is still out
" on chat bots. Yet, the idea that we can hold meaningful and useful conversations with a computer has been fascinating AI experts for decades.
The following is part of a 'conversation' between two bots - one called ELIZA, created to assume the role of a psychotherapist and one called PARRY, who was programmed at act paranoid.
ELIZA: Good Evening. Tell me your problems. Please terminate input with a period or a question mark.
PARRY: People get on my nerves sometimes.
ELIZA: I am not sure I understand you fully.
PARRY: You should pay more attention.
ELIZA: Suppose you should pay more attention.
PARRY: You're entitled to your own opinion.
ELIZA: What makes you think I am entitled to my own opinion?
PARRY: It bothers me just to be around people in general.
ELIZA: Please go on.
PARRY: I went to the track at Bay Meadows a while back.
ELIZA: What does that suggest to you?
PARRY: I went to the races.
The conversation went on for some time, with PARRY becoming increasingly 'frustrated' with ELIZA's seemingly unhelpful responses.
It's quite different and much more meaningful in human terms to the language 'invented' by the two Facebook bots. It's also interesting to consider when you put it into a historical context - that AI conversation took place in 1972.
Originally, ELIZA (created in 1964) and Parry (created in 1972) were intended to act as
Turing Test
candidates to see whether a computer could convince a human it was real on the basis of a conversation between the two. Given the 'personas' created for ELIZA and PARRY, someone came up with the idea of hooking them up and that friendly chat was the result.
Passing a Turing Test is supposed to show that a machine is displaying human levels of intelligence. Whether it does or not has been debated since Alan Turing created the test back in 1950, and for the past ten years has been the objective for an annual chat bot competition, The Loebner Prize.
Each year, the winner of the $100,000 prize is the bot which the human judges decide can hold the most convincing conversation. The
current champion
, a bot called Mitsuki, has even beaten an unofficial version of Apple's Siri technology into a distant 14th place.
Whatever the merits of the competitive approach to chat bot development, some 45 years after ELIZA met Parry, they remain a focal point for AI development. Huge challenges remain, not just to develop effective chat bots which can help solve real world problems, but also that chat bot development is viewed through the same cautious, even fearful, lens as other branches of AI. Or as The Register puts it, "you can replace the human, but you can't replace the humanity."
-- This feed and its contents are the property of The Huffington Post UK, and use is subject to our terms. It may be used for personal consumption, but may not be distributed on a website.